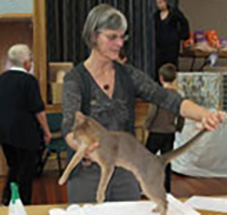 Category:
All Breeds
Status:
Senior
Address:
45 Pacific Street
Roslyn
Dunedin 9010
Email:
maree.greenfrog@gmail.com
Phone:
027 4329634
I've been a cat lover for as long as I can remember – from the childhood days when cute moggies strayed onto our back porch to have their kittens to owning my first Siamese at 23.
'Mickey' went everywhere with my daughter Melyssa and me; picnics, walks, camping trips, the lot. I was hooked! Next was a stunning Ebony Oriental called Ninja and our foray into the cat show circuit way back in 1984.
We started breeding in 1990 with our Siamese Nodrog Zoe under the Xanthe Prefix. An eye for the 'different' led us into torties and bicolours [sometimes together]; both Siamese and Oriental. A change of direction led to a love for Tonkinese.
I have spent several years serving on the Breed Standards Advisory Council and as the Tonkinese Breed Representative. Being a cat judge is hugely enjoyable though jolly hard work. In September 2010 in Christchurch – the weekend before the earthquake! – I qualified as an All-Breeds Judge.